World football governing body, FIFA has announced that the 2026 World Cup will have 48 teams in 16 groups of 3 nations.
FIFA's ruling council on Tuesday unanimously approved an expansion of the World Cup to 48 teams in 2026, with a format of 16 groups of three nations.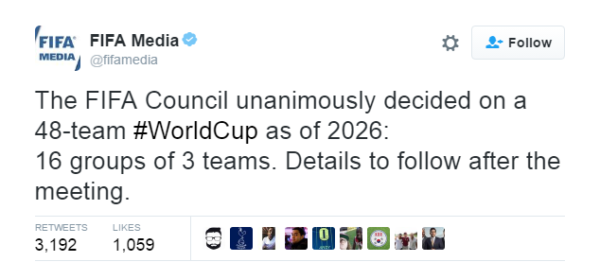 FIFA President, Gianni Infantino had made the enlargement of football's most prestigious showcase a top priority since the beginning of his administration in February 2016.
According to ESPN FC:
Delegates were asked to vote on four proposals to change the existing format or stick with the current format of 32 teams.

Infantino's preferred option for change was for a 2026 competition featuring 16 groups of three, followed by a 32-team knockout, increasing the number of games from 64 to 80 but remaining inside a 32-day schedule.

There were also options to have a 40-team tournament, with 10 groups of four or eight groups of five, but the only other 48-team make-up would see a 32-team one-game knockout round with the winners joining 16 already-qualified teams.

With 80 matches instead of 64, FIFA forecasts $1 billion extra income from broadcasting and sponsor deals, plus ticket sales, compared to $5.5bn forecast for the 2018 World Cup in Russia.

FIFA's six continents should find out by May how many extra places they will get.

The African and Asian nations are expecting significant increases on their current allocation of four spots apiece, while UEFA wants 16 European teams in the tournament.
That maiden edition of the World Cup which took place in 1930. It was hosted and won by Uruguay, and only 13 countries participate.
The World Cup expanded to 24 teams in 1982 in Spain before moving to its current 32-team version at France 1998.
Photo Credit: Tolga Akmen/Anadolu Agency/Getty Images