Yesterday, at his annual AY Live comedy show, comedian and actor AY Makun brought the contestants of the recently concluded Big Brother Naija reality show on stage in a bid to further introduce them to Nigerians and showcase their talents.On stage at the event with the other contestants that were evicted was Kemen, who had been disqualified from the BBNaija house following some controversy and allegations of sexual assault towards fellow housemate, TBoss.
During a previous event the night before his annual show, AY Makun had pledged his support for Kemen – who has constantly received mixed reactions from Nigerians. According to AY Makun, Kemen should be encouraged and not further punished for what AY described as a mistake.
At the annual show, AY further reiterated his support for Kemen. He went on to make jokes about sex and the urgency to which some men might require a release from their desires. According to him, women can side with TBoss but no man should castigate Kemen because every man knows how 'konji'can be.
This joke was met with mixed reactions on social media, especially as TBoss was right there on stage when the jokes were being made. According to some fans, the jokes were made at the expense of TBoss' feelings. A number of people on Twitter have also maintained that it was "just comedy" and that comedians cannot be restricted to certain topics.
See some reactions below.
You people read too meanings into everything.Ay was only trying to say;Yes,Kemen fucked up but,let's not put him down because of that..
I dont get it, is there anything comedians wouldn't joke with? Whats d fuss about? Oh that tboss n kemen were called out??
How come everyone has forgotten that Kemen once mentioned on BBN that his friends once drugged a girl to sleep wit her? #aylive2017
"Shame" on all the comedians using Tboss as material now..and bigger shame on asking people to support Kemen..
#AYlive I'm not against @AYCOMEDIAN making jokes bout d housemates, but doing it in their presence is very wrong n disrespectful
I don't see Tboss or Kemen complaining. Y'all are here defending them and fighting their battles. Pls sit down and be humble.#AYlive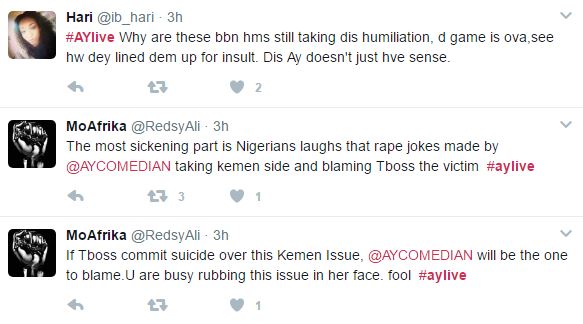 Watch the video clip from the show below.

Following the incident, AY Makun and TBoss posed for a photo backstage showing that he has perhaps apologized for the joke.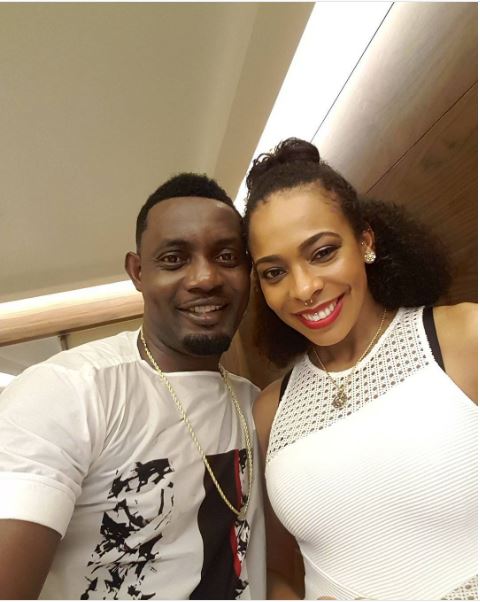 Photo Credit: Instagram.com/aycomedian