First photos since the house arrest of 93-year old Zimbabwean ruler Robert Mugabe have emerged.
The military had seized the state broadcaster on Wednesday, saying it is purging the state of criminals around the leader. The military however claimed it was not a takeover of the government.
"We are only targeting criminals around him who are committing crimes that are causing social and economic suffering in the country in order to bring them to justice…. Any provocation will be met with an appropriate response," the army's chief of staff Maj. Gen. S. B. Moyo said in the Wednesday morning broadcast.
Zimbabwe's Army General Constantino Chiwenga had on Monday, threatened that the military could "step in" to protect the positions of ruling ZANU–PF members who fought to end UK's rule over Zimbabwe.
His comments were seen as a response to Mugabe's sacking of vice-president Emerson Mnangagwa, who previously served as the defence and state security minister and fought in the liberation war.
The sack was seen as clearing the way for Mugabe's wife Grace, to succeed her husband, which didn't go down well with some politicians.
Mugabe was pictured by state owned Zimbabwe Herald alongside army chiefs and South African officials as negotiations for his resignation continue.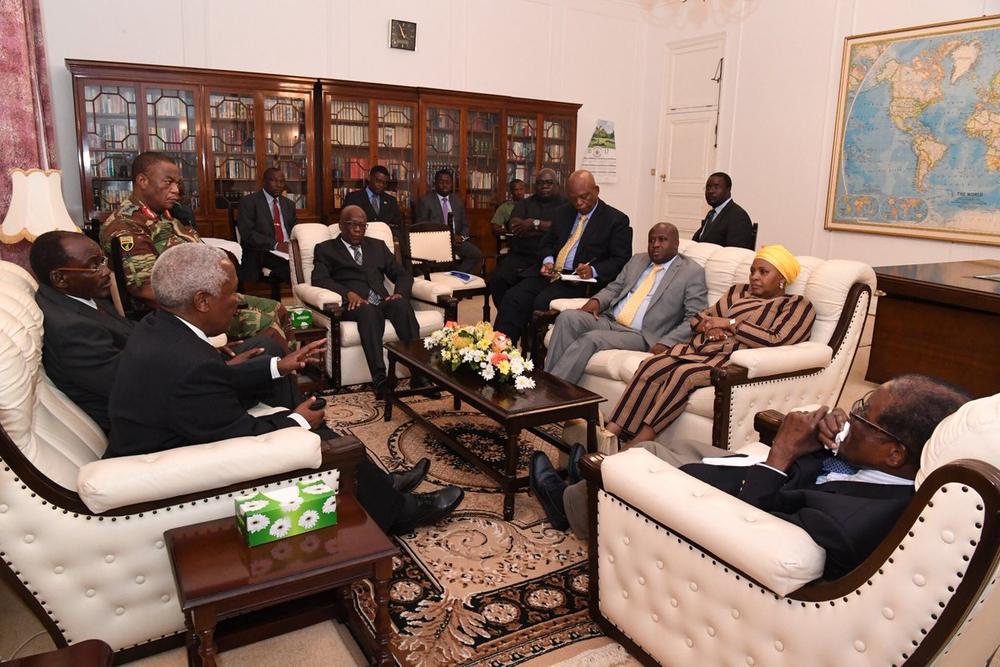 A source had told Reuters that Mugabe is resisting mediation for a graceful exit after his 37-year rule.
Zimbabwean intelligence reports seen by Reuters also suggest that Mnangagwa has been mapping out a post-Mugabe vision with the military and opposition for more than a year.
See more photos below: