Did you watch Day 36 of the Big Brother Naijareality TV show?
If you missed it we've got the highlights for you!
..
A somber Morning 
The Housemates didn't wake up to the usual workout today opting instead to play cards in the kitchen TTT, Uriel, Kemen and Bassey were the first ones up but it wasn't long before people started shuffling out of their beds and into the kitchen for a morning snack.
Perhaps it's the shock of Bisola and Bally's mock Eviction but Uriel was quite cozy with Efe despite their explosive fight yesterday!
She pulled up from behind and wrapped her arms around him holding him close for quite a long while. For a moment Efe seemed tense but he soon relaxed and went back to his usual habit of making jokes about Uriel's butt calling it "darker than her face!" Uriel protested saying it was actually lighter before Efe clapped back and said she was "bleaching it then!"
The Housemates then headed out to the front yard to stretch and workout. The mood the entire time was decidedly somber and they went through all the motions in complete silence.
Funny enough, Bisola and Bally were sneaking into the bathroom to shower at that exact moment and giggling gleefully at the fact that their fellow Housemates were clueless about Biggie's trick.
Dancing to Love don't care
For their first challenge of the week, Biggie revealed to the Housemates that they'd get the privilege of creating a choreographed routine to Simi's "Love Don't Care".
Biggie made it clear that he expected everyone to participate. The Housemates sat and listened intently hoping not to offend him after getting admonished and given a stern warning earlier for faffing and talking while HoH Kemen was reading out the Task brief!
Shortly afterward Biggie blasted Simi's song through the speakers and Uriel, Kemen and Debie-Rise got up on their feet and started dancing along gracefully!
Being a choreographer TTT immediately took charge of the Task and came up with a storyline in which he cast Debie-Rise as the lead character.
It's a scam
The mood in the House today was decidedly mellow since Biggie's surprise, quadruple Eviction! The Housemates were left gutted and reeling after he sent them to the Arena last night and they didn't find anyone waiting for them like they'd expected.
In reality, Bisola and Bally haven't left the House at all and instead, they're on vacation getting wined and dined while they watch their fellow Housemates on TV.
In spite of the clever cover-up, Debie-Rise still had her suspicions and cited the fact that there were no pictures hanging on the wall as proof that people were coming back. To put these hopes to rest, Biggie had his Ninjas come into the House this afternoon and hang up the portraits in question.
The plan seemed to work. TTT, Uriel, TBoss, and Kemen stood in front of the wall staring blankly as the reality that the Eviction might have been real after all started to set in. TBoss, in particular, seemed overcome with emotion and on the verge of tears.
What made the whole moment hilarious however was the fact that Bally and Bisola were feasting on ribs and having a blast at that exact moment.
Uriel and Bassey then had a seat and reiterated once again that Biggie was probably up to something because Bisola was just too "popular" to be out of the running already!
Simi visits the Housemates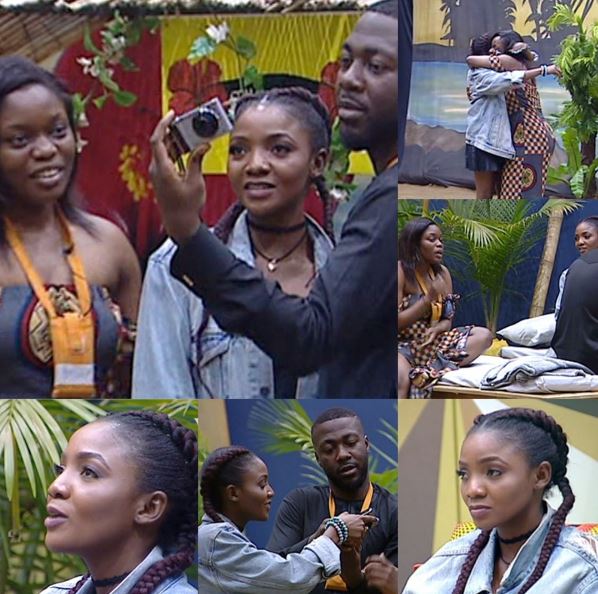 Simi lit up Biggie's stage last night, and she paid the Housemates a surprise visit today and was almost brought to tears as they performed for her their dance they were working on to her song, "Love Don't Care." She told them that they were all already legends. She did have one thing to ask everyone as to what it was that brought them into the House.
Debie-Rise told Simi that she was in the House because of the amazing platform that it offered for her. All of the Housemates explained their varying reasons and it varied from TBoss wanting to show that mixed race, as she said her dad is Nigerian and her mother Romanian, she wanted to show Nigeria that just because she looks different, "Doesn't mean I am a bad person, I am just like you and me." She also mentioned that she wanted to carry on with acting and Big Brother Naija was an amazing platform for her.
Marvis said that she wanted to showcase her acting and her rapping and asked her about how she managed to juggle music production with her career as a vocalist. Simi said, by way of reply to all of them as many had the same reasons for being in the House.  "You have to look out for yourself but for good reasons."
Efe was using his opportunity to expose Nigeria to his music as he said he sang and raped in Pigeon and he wanted to give his genre more exposure. Uriel spoke about how it was different in the UK. Bassey revealed that he was always a huge fan of the Big Brother shows and was desperate to get in as he saw it, too as a huge platform for him and for him to explore his self.
Kemen also said that he wanted to be on a platform that showcased his brand, and he explained that he was an entrepreneur and that this would get him to the next level.
Simi said, "One thing I have noticed is that it is very easy to judge someone you haven't met." She said that they had to open themselves up to the experience and that they had to "Hold your head up and put your eye on the prize. Remember your goals, Keep it real," she ended.
From there, Simi went and visited Bisola and Bassey on their Paradise vacation. They talked for a while as Bisola and Bassey charmed the petite starlet and Bisola gushed over a story about when she first saw Simi live.
Last Man Standing
When Biggie called, it was as if eight bundles of nerves had rolled into the Arena: some had chosen to keep their heads bowed, while others had kept their hands behind the back as eyes had opened wider and nose tips had become sweatier on the faces.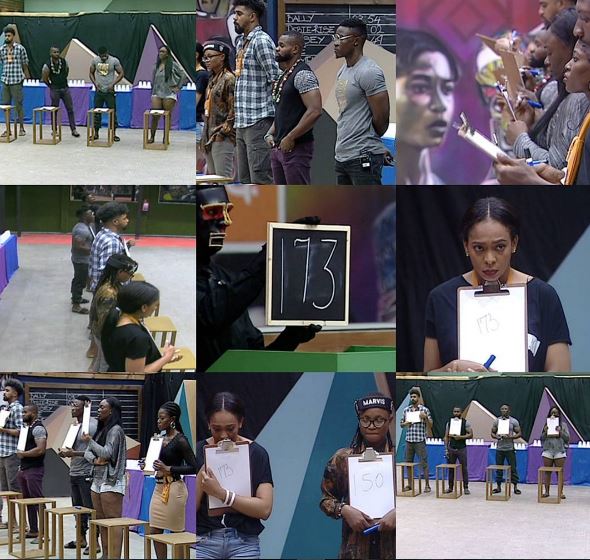 The first round of the #BBHoH had Housemates guess the number 173 written on paper by a #BBNinja. TBoss, ThinTallTony, Marvis, Debie-Rise and Uriel who had made the five closest guesses moved to the second round while Efe, Bassey, and Kemen were eliminated.
From five contestants to the HoH title, the number was soon brought down to three during the second part of the game, with Debie-Rise and Uriel joining their defeated Housemates on the side benches.
At this stage, TBoss'competitive nature had taken the front stage: the veins on her neck were protruding, her eyes had popped out of her head and nostrils dilated as one who had switched into full combat mode.
Together with Marvis and Thin Tall Tony, they plunged into Biggie's last challenge of popping balloons with their bottoms. It was a relentless race against the clock. TBoss was heard grumbling, huffing and puffing of impatience as her competitors were quietly searching – though not without discomfort – under the incredulous glares of the disqualified Housemates seated on the side benches.
Having found the slip of paper with the title Head of House, Thin Tall Tony emerged against all odds as the winner of the #BBHoH task, leaving seven Housemates up for Evictions. However, the incoming HoH was not granted the privilege to Save anyone else.