The internet has been filled with different reactions, following the video clip of Spanish football federation president, Luis Rubiales publicly kissing Spain midfielder, Jenni Hermoso on the lips during the world cup presentation on Sunday.
The Female Spain Football Player, Luis Rubiales has come out to defend her president, and she said it was just a spontaneous mutual gesture, birthed from the immense joy within the camp following thier world cup triumph over England.
However, she had already responded to the kiss before her public support for her president, where she said on an Instagram live stream after the game, "I didn't like it," although she was laughing as she spoke.
45 year-old Luis Rubiales has already apologized for the kiss, "Certainly I made a mistake and I have to acknowledge that, It was done without any ill intention in a moment of the highest exuberance. Here we saw it as natural and normal but outside it has caused a commotion," he said.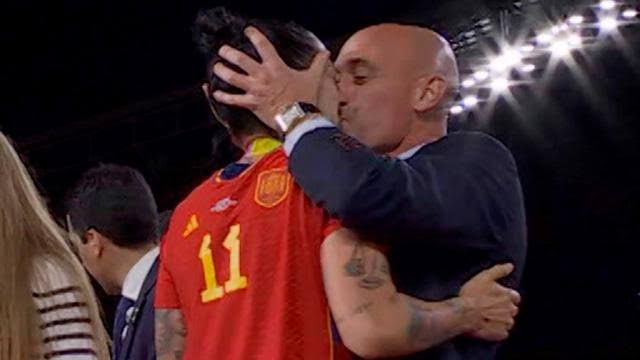 He took over the reigns of the Spanish football presidency from Angel Maria Villar in May 2018, and he was then re-elected unopposed in September 2020.