Social Media Week Lagos kicks started yesterday and this marks their fifth year in Lagos! There are lots of exciting events all week long so make sure you're a part of one of these events for what could possibly be a life-changing experience for you.
To register, click here to visit the Schedule Page on the SMW Lagos official website, click the event you are interested in, click register and sign up.
To get the VIP experience or buy a Campus Pass for any of the events, click here.
Here's the Schedule for Tuesday, February 28
Tuesday, February 28
Travel & City Bloggers Meetup
8:45 AM – 10:15 AM
Hosted by Eat.Drink.Lagos
Official Event
Tuesday, February 28
Harnessing The Power of Video To Grow Your Business
Skillshare Workshop
9:00 AM – 12:00 PM
Hosted by The iVEN Team
Independent Event
Masterclass Suite
SOLD OUT
Tuesday, February 28
Digital Skills For Beginners: Creating A Simple Web Application
Explore Lagos
9:00 AM – 4:00 PM
Hosted by AboCoders
Independent Event
CcHub Nigeria
3rd Party Registration
Tuesday, February 28
Perception & Reality: Harnessing Opportunities in Digital Journalism
Business Day
9:00 AM – 10:00 AM
Hosted by Business Day Media
Official Event
Innovation Stage Powered by Visa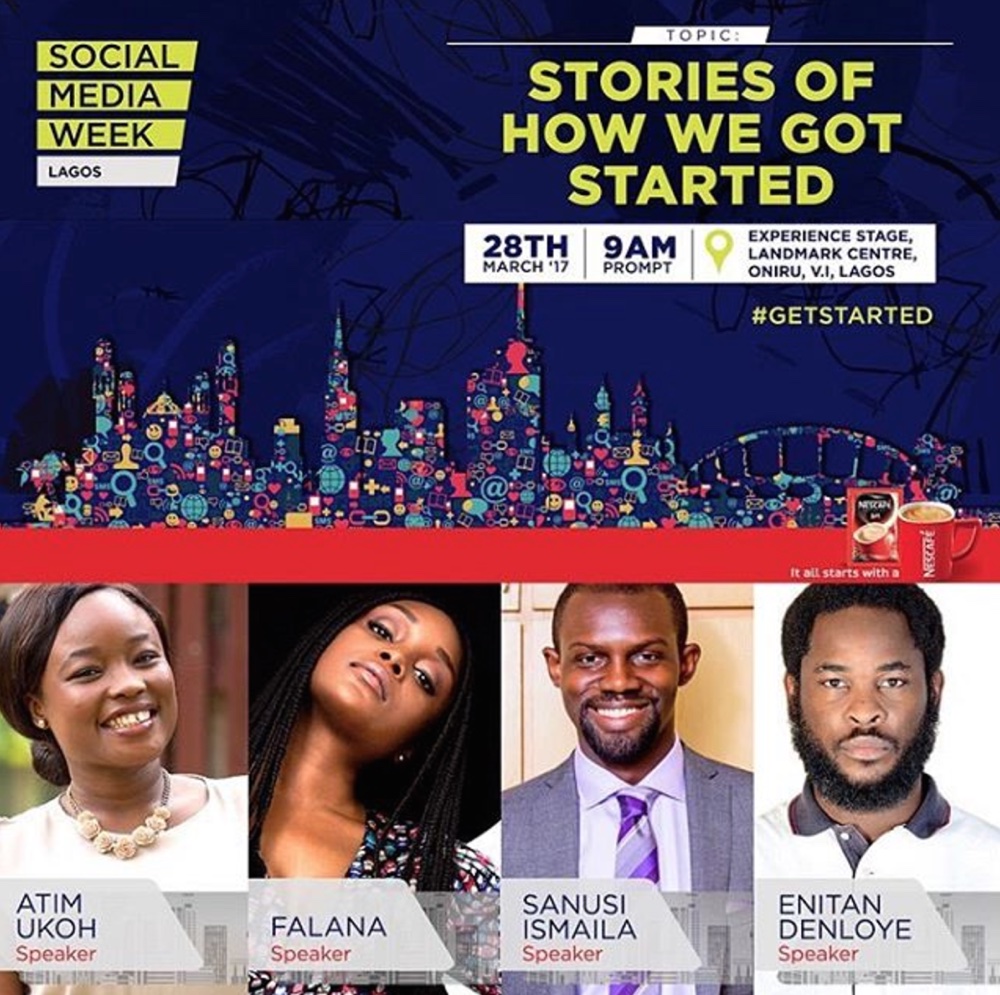 Tuesday, February 28
Stories of How We Got Started
Nescafe
9:00 AM – 10:00 AM
Hosted by NESCAFE
Official Event
Experience Stage Powered by Purple
Tuesday, February 28
The Social Media Jury: Building your Digital Empire
Explore Lagos
10:00 AM – 3:00 PM
Hosted by Glissy Media
Independent Event
IRC at The U.S. Embassy
Tuesday, February 28
Film Festival Screening & Workshop
Explore Lagos
10:00 AM – 5:00 PM
Hosted by REALTIME FILM FESTIVAL
Independent Event
Genesis Deluxe Cinema
Tuesday, February 28
Truth Don Die: Is Social Media the Problem with Public Discourse?
10:30 AM – 11:30 AM
Hosted by Nigerian Working Group
Independent Event
Innovation Stage Powered by Visa
Tuesday, February 28
#SMWTeleMentoring: Transforming Web-based Communities Into High-Impact Developmental Relationships
Explore Lagos
11:00 AM – 2:00 PM
Hosted by Precepts & Mentors
Independent Event
Smart Executives Centre
Tuesday, February 28
Personalizing the African Traveler's Experience Through Technology
Travel Africa Day
12:00 PM – 1:00 PM
Hosted by Afro Tourism West Africa
Independent Event
Experience Stage Powered by Purple
Tuesday, February 28
Social Networking Echo Chambers: Communication in the Post-truth Age
12:00 PM – 1:00 PM
Hosted by Institute for Ideas (Ghana/UK)
Independent Event
SMW Studio
Tuesday, February 28
The Hyper-Connected Consumer: New Rules of Engagement
Troyka
12:00 PM – 1:00 PM
Hosted by Troyka
Official Event
Innovation Stage Powered by Visa
Tuesday, February 28
Find Your Sparkle!
12:00 PM – 1:00 PM
Hosted by The Sparkle with Naomi Company
Independent Event
Tuesday, February 28
Digital Technologies For Brand Marketing & Communications
12:30 PM – 1:45 PM
Hosted by Interactive CT
Independent Event
Masterclass Suite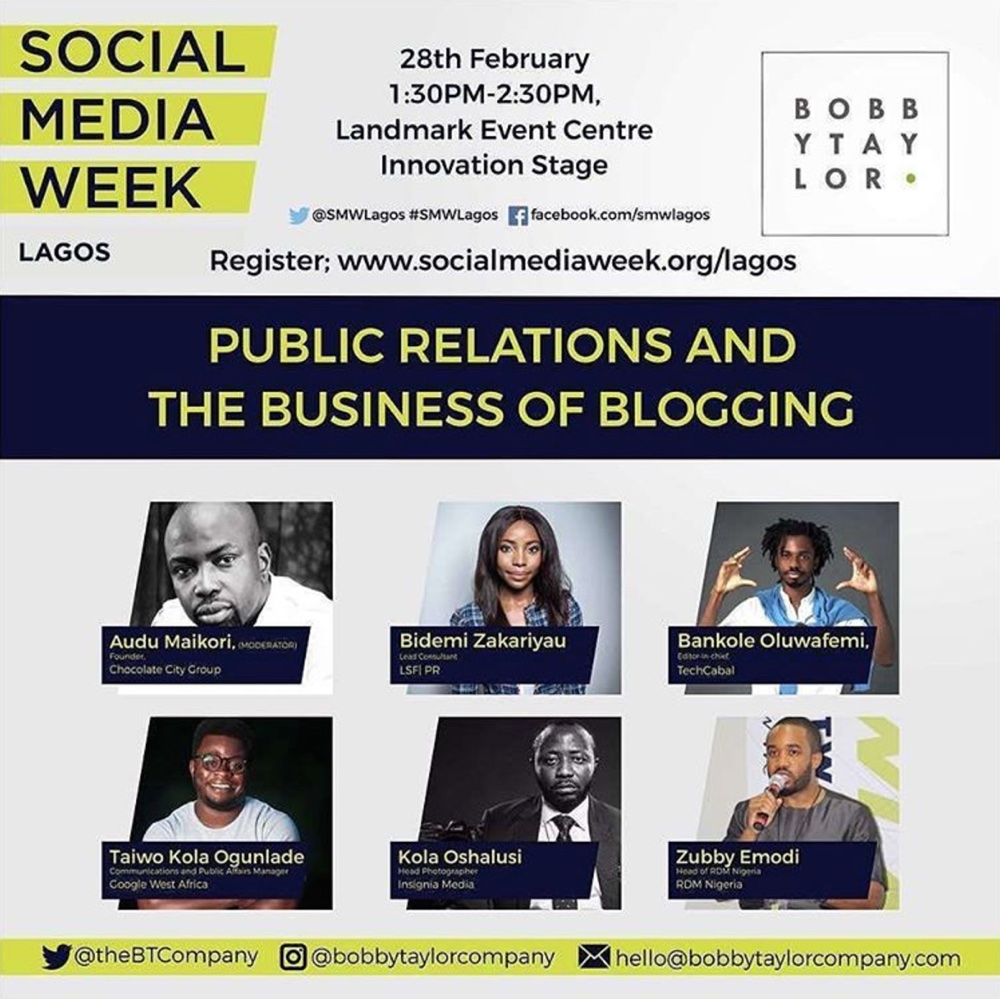 Tuesday, February 28
Public Relations & the Business of Blogging
1:30 PM – 2:30 PM
Hosted by The Bobby Taylor Company
Independent Event
Innovation Stage Powered by Visa
Tuesday, February 28
Social Media & Nigerian Tourism: Bridging the Gap, Telling the Stories
Travel Africa Day
1:30 PM – 2:30 PM
Hosted by Social Prefect Tours
Independent Event
Experience Stage Powered by Purple
Tuesday, February 28
How Digital Video Is Changing Us
Pulse
1:30 PM – 2:30 PM
Hosted by Pulse Nigeria
Official Event
SMW Studio
Tuesday, February 28
Fund A Startup: A Guide To Becoming a Business Angel
1:30 PM – 2:30 PM
Hosted by Lagos Angel Network
Official Event
Campus SpeakEasy
SOLD OUT
Tuesday, February 28
Facebook and Instagram for Content Creators and Publishers
Facebook
2:15 PM – 3:30 PM
Hosted by Facebook Africa
Official Event
Masterclass Suite
SOLD OUT
Tuesday, February 28
Programmatic Marketing: The Future of Digital Media in Africa
Eskimi
3:00 PM – 4:00 PM
Hosted by Eskimi
Official Event
Innovation Stage Powered by Visa
Tuesday, February 28
Travel the New Nigeria
Travel Africa Day
3:00 PM – 4:00 PM
Hosted by TVP Adventures
Independent Event
Experience Stage Powered by Purple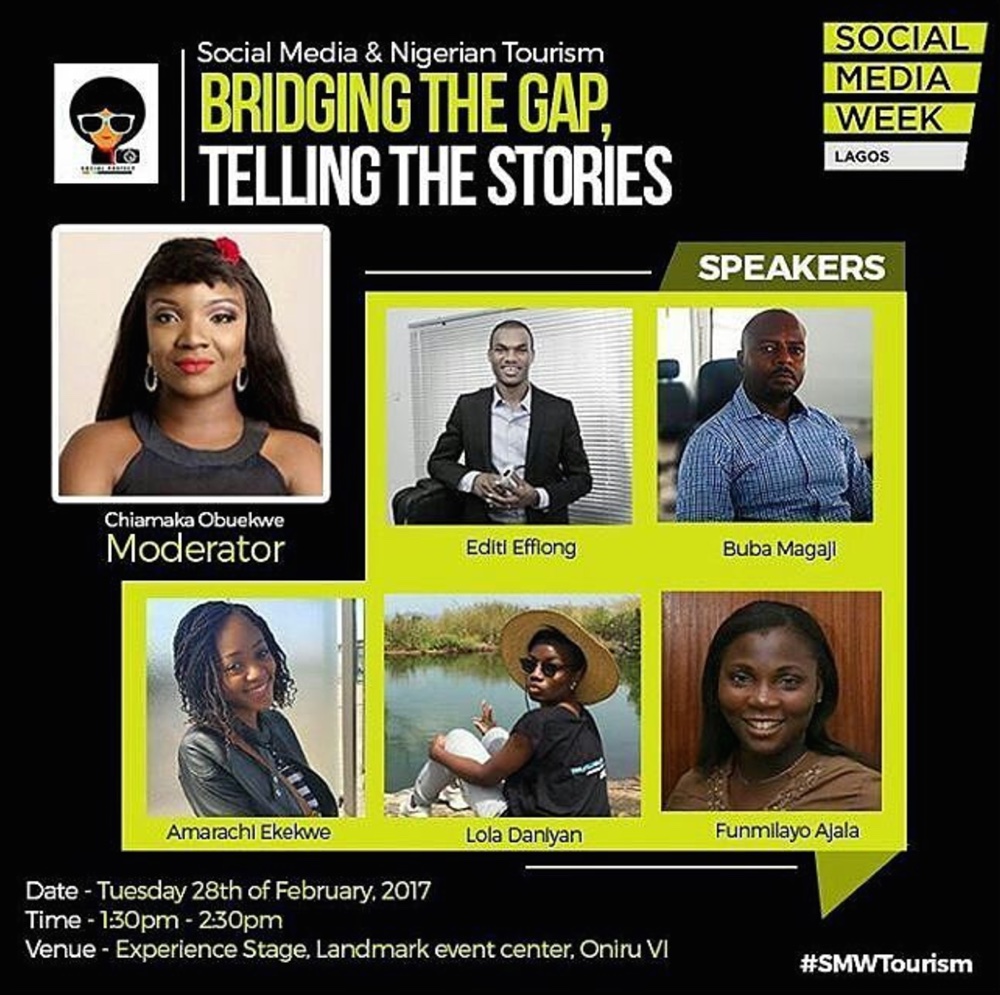 Tuesday, February 28
How African Metro Areas Are Defining Modern Music Using Social Media
3:00 PM – 4:00 PM
Hosted by Mixerpot
Independent Event
SMW Studio
Tuesday, February 28
ByteNite@Neo in collaboration withHypebuzz
#SMWLagosNites
4:00 PM – 9:00 PM
Hosted by Cafe Neo/ Cre8
Official Event
Tuesday, February 28
Branding Identity: How to Make Your Brand Speak
Cregital
4:00 PM – 7:00 PM
Hosted by Cregital
Official Event
Masterclass Suite
SOLD OUT
Tuesday, February 28
Driving Tourism… The Tech Advantage
Travel Africa Day
4:30 PM – 5:30 PM
Hosted by Lagos LaidBac
Independent Event
Experience Stage Powered by Purple
Tuesday, February 28
#TEAMUS: Creating a Global Community, Building Your Brand!
4:30 PM – 5:30 PM
Hosted by Shoppe Black
Official Event
SMW Studio
Tuesday, February 28
Future of Payments and Its Impact on Business in Nigeria
Visa
4:30 PM – 5:30 PM
Hosted by Visa
Official Event
Innovation Stage Powered by Visa
Tuesday, February 28
Content Creators Meetup: Inspiring Nigerian Millenials With Pop Culture
4:30 PM – 6:00 PM
Hosted by Konbini
Official Event
Meetup Suite